The kale in my garden has exploded! We're not quite eating it fast enough. Kale as well as other leafy greens are super foods and should be a regular part of a child's diet. One cup of chopped kale contains 33 calories and 9% of the daily value of calcium, 206% of vitamin A, 134% of vitamin C, and a whopping 684% of vitamin K. It is also a good source of minerals copper, potassium, iron, manganese, and phosphorus.
And because the most common way we use kale is in ice creams and smoothies, I freeze it! I will pick the kale in my garden, rinse, and pull the thick stems off of it. Then, place on a baking sheet to freeze, and add it to a freezer safe bag.
I will also purchase a bag of baby kale from Costco, and put the entire bag straight into the freezer.
After freezing, it gets crumbly, but that's OK! We take a handful, or a cup full and it to the smoothie. The crumblier it is, the easier it is to blend with the rest of our ingredients.  This is the last of my baby kale from Costco- gotta make room for the large leaf garden kale!
So, with our abundance of frozen kale on hand, as well as a bag of spinach, we created several green ice cream treats!  Choose one to try today- your kids will LOVE THEM!
6 Super Healthy Green Ice Cream Recipes
Tropical Coconut
For the tropical coconut we combined:
1 cup coconut milk
1 cup frozen spinach or kale
1 tablespoon honey
1 cup frozen pineapple
1 frozen banana
Flaked coconut for garnish
Blend all ingredients in a high powered blender. Then pour into a container and freeze at least 4 hours. After frozen, remove from freezer and then wait about 10 minutes to make scooping easier.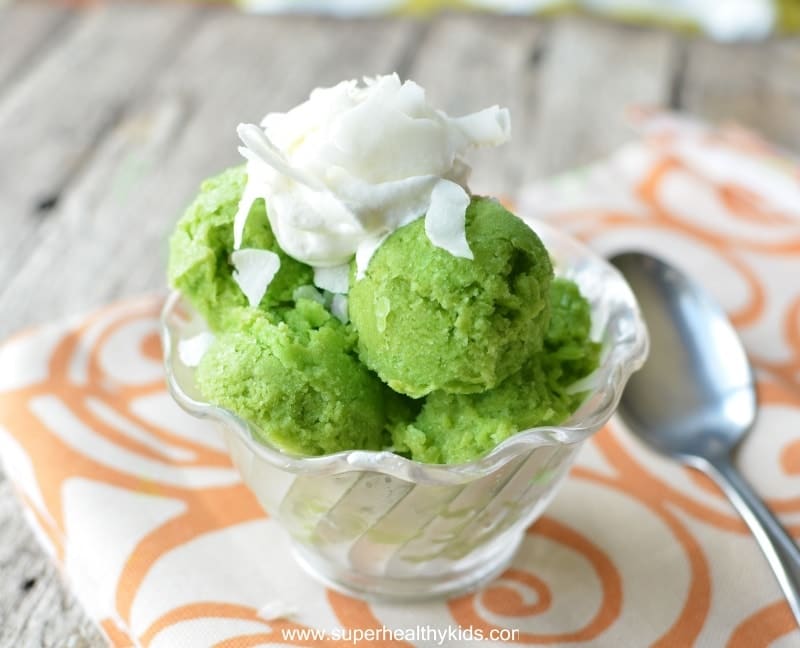 Creamy Avocado
We started with our original recipe for avocado ice cream here, and modified it based on your feedback. For the one we ate this week, we used:
1 cup coconut milk
1 tablespoon lemon juice
1 avocado
1 cup frozen kale or spinach
1 tablespoon maple syrup
1/2 cup plain yogurt.
This one was super creamy! It almost didn't need to be frozen. Kind of like soft serve. But we froze it for about 2 hours anyway, and it was even better!
Vegan Almond Pistachio Ice Cream
This one isn't mine, but I couldn't have a round up of green ice creams without pistachios! So, I found one from Somer at Veged Out that looked amazing! Check out her super healthy, vegan Almond Pistachio Ice Cream here.
Mint Chocolate Chip
MMmmmm! Do your kids like mint chocolate chip? Some kids love it, some don't. But either way, I'm sure they have an opinion. So, this one was easy. We used:
1 cup milk
1 cup frozen spinach or kale
1 teaspoon vanilla
1 tablespoon honey
1/2 cup mint leaves
1 frozen banana
1/4 cup mini chocolate chips
Blend milk, greens, vanilla, honey, mint, and also banana in a high powered blender.  Then Fold in chocolate chips.  Then Scoop into bowl and freeze for 2-4 hours.
Fresh Creamy Lime Ice Cream
This one does taste fresh and amazing. We used:
1 cup milk
1 lime, juiced (we just squeezed the lime juice into the blender)
2 dates, pitted
1 teaspoon vanilla extract
1 cup frozen spinach or kale
Blend all ingredients in a high powered blender. This one will be super runny. But just pour into a bowl and put in the freezer. It will take at least 5-6 hours to freeze to our desired consistency.
Kiwi Sorbet
We've been making this one for years!  Fruit and honey is really all you need, and maybe your kids don't even need the honey!?  Check out the steps over on our Kiwi Sorbet post here.
So there you have it! 6 Super Healthy Green Ice Cream ideas that your kids are sure to love! Do you have any others we forgot?